Products
Oryx Hunting in New Mexico
A Oryx hunt can be an amazing experience. Also known as gemsbok, the oryx is a visually striking antelope with distinct markings and long, straight horns (30–40 inches) grown by both sexes. Standing approximately 46 inches at the shoulder and six feet in length, oryx often weigh near 500 pounds. You can check out more images on our Instagram page from previous oryx hunts.
The thick tan-colored hide covering the oryx is marked on the face with symmetrical black and white triangular patches and broad stripes from the horns over the eyes to a white muzzle. Farther down the muzzle, black stripes move down the neck and around the underbody, forming bands around all four legs. Also moving from the head along the spine is a black stripe consisting of a short black mane at the neck to the black tasseled tail.
Traditionally, Oryx are found in desert, steppe and savanna ecosystems of Africa and the Middle East at elevations between 3,500–4,800 feet. In New Mexico, the Chihuahuan Desert in White Sands Missile Range and the surrounding areas is remarkably similar to the arid, native habitats where oryx subsist with very little water.
An Exotic Hunt Comes to New Mexico
New Mexico Oryx hunting originated in the late 1940's when Frank C. Hibben, an avid big-game hunter and then chairman of the New Mexico State Game Commission, remembered hunting the African oryx in arid deserts similar to regions of southern New Mexico. Subsequently, the New Mexico Department of Game and Fish (NMDGF) from 1969–1977 released 93 captivity bred oryx onto White Sands Missile Range (WSMR) in the Tularosa Basin. As a result, Oryx hunting is now available.
Similar to Africa, the Tularosa Basin has a large predator, the native mountain lion, that was expected to prey on oryx and help maintain a localized and healthy population— hopefully of about 600 animals. But lack of predation and rapid reproduction by this exotic hunt species quickly established a population that spread into surrounding areas, peaking at 4,000–6,000 animals by 2001.
Already by the mid-1990s, the overabundance had prompted NMDGF and WSMR to develop a management plan to address the spreading population. Working with private landowners and public-land managers from the National Park Service, U.S. Fish and Wildlife, USDA Forest Service and BLM, Oryx hunting to manage population growth are conducted regularly and licenses issued periodically for oryx hunting move beyond the boundaries of WSMR ( off range ).
Oryx primarily live in herds of 10–40 animals, comprised of one dominant male, a harem of females and a few non-dominant males. Many males remain solitary and defend a sole territory by marking it with dung deposits.
What to Expect With an Oryx Hunt
Be Prepared to Walk 1-4 Miles on Sandy Terrain . Shots Between 250-600 Yards
A Pair of Knee Pads for Crawling Through Sand and Rock
A Good Pair of Bins 10x -15x
A Good Pair of Shooting Sticks That You Are Comfortable Shooting Off
Spotting Scope for Glassing Hours on End
Gear Tips for an Awesome Oryx Hunt
Good Pair of Hiking Boots 6-8″ Tall
Good Pair of Glassing Binoculars 10×42 or Better
Good Hunting Backpack With Plenty of Room for Water and Snacks
Recommend Good Tripod for Glassing or Shooting
Good Layering System on Camo Depending on Season and Weather Conditions
You can hunt New Mexico Oryx with us from June – March
Jerry Blake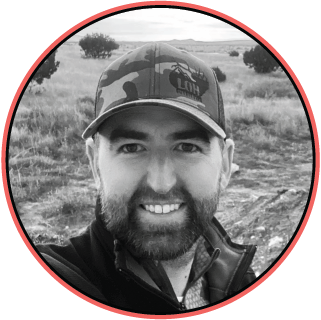 Matt Bennett