Products
New Mexico Mule Deer Hunting
Mule deer are arguably one of the most sought after species of the west. Fortunately for you, New Mexico mule deer hunting benefits by the existence of two different sub species; the Rocky Mountain mule deer in the northern half of the state, and the desert mule deer in the southern half of the state.
A Brief History
Westward expansion in the early 1900s contributed to the decline in mule deer habit and migration routes resulting in a mule deer population with approximately 40,000 animals. However it was not until improved population management efforts applied by state and federal agencies was changed affected. Additionally, strong leadership support from organizations and volunteer programs like the Mule Deer Foundation (MDF), and the Rocky Mountain Elk Foundation (RMEF) has also made restoring habitat and predator control improvements possible. As a result, a growing and properly managed mule deer population helps make New Mexico a prime state for mule deer hunting.
New Mexico Mule Deer Hunting
Four distinct hunting seasons define New Mexico mule deer hunting. First, is the archery-only hunt in early September. This provides opportunities for harvesting mule deer still in velvet. Second is the late October muzzleloader season. Third is the early November start of rifle season. Finally, the last season includes an additional January archery rut hunt.
Hunters choosing LOH Outfitters as their hunting outfitters have the option to choose either a draw hunt or private ranch hunts. Either option can lead to a successful hunt and working with an outfitter can be much easier obtaining the type and location of hunt your are seeking. For instance, review our tutorial for getting started with a license and draw hunts and see just how easy we can make it for you.
What to Expect With a New Mexico Mule Deer Hunt
Things to expect on your hunt be prepared to walk 1-8 miles per day in mountainous terrain. Spending a lot of time glassing the Mahogany hill side. Rifle shots range from 100-500 yards and archery from 40-100 yards. Typically, hunting in higher elevations 5,000ft-10,000ft. above sea level.
Gear Tips for an Awesome Mule Deer Hunt
Good Pair of Hiking Boots 6-8″ Tall
Good Pair of Glassing Binoculars 10×42 or Better
Good Hunting Backpack With Plenty of Room for Water and Snacks
Recommend Good Tripod for Glassing or Shooting
Good Layering System on Camo Depending on Season and Weather Conditions
You can hunt New Mexico Mule Deer with us October – January
Jerry Blake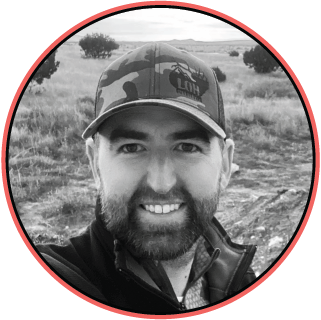 Matt Bennett