Products
Guided New Mexico Elk Hunts
New Mexico Elk Hunts
We Specialize in Elk Hunting for Trophy Bulls…
If you're looking for a serious New Mexico elk hunting adventure — the kind of hunting experience that brings majestic, bugling, trophy bulls in so close the hair will stand up on the back of your neck, then you'll want to book with LOH Outfitters. With comfortable accommodations, good food, and a 90+ percent opportunity on 280" – 390" bulls, we're hard to beat for blood-pumping action in the Gila wilderness and Southwestern New Mexico.
Our elk hunts feature 1-on-1 professional guides in units 13, 15, 16, 17, and 36. Units 13, 15 and 17 are trophy units and can only be hunted with bow or muzzleloader. We also offer a demanding unit 16B* trip that is a horseback bow hunt 10 to 20 miles deep into the pristine Gila wilderness.
The draw deadline for these tags is in March and costs between $555-$780 for a successful draw. Unsuccessful draws refund all but a $89 processing fee, and we can provide guaranteed land owner tags ranging from $8,500 – $12,500 and up (prices are subject to New Mexico sales tax).
Watch Kuiu's Kevin Wilkerson's and LOH Outfitters owner Jerry Blake on this incredible 2021 New Mexico muzzleloader elk hunt.
Does the Price Include Meat Processing, Shipping, and Taxidermy?
No. We will field dress your meat and have close connections with a local processor and taxidermist but you are required to pay for your own processing, shipping of meat, taxidermy, cape, and antlers. Plan on $200 – $400 for meat processing and shipping and $250 – $1,000 for mounts and taxidermy.
What is Expected as a Tip for My Guide?
Typical gratuities are 10-20% of the cost for the hunt, depending on your experience. Please tip you guide after the hunt. Our cooks also work hard to provide great meals. A tip for our cook staff is also very much appreciated.
Do I Need to Put Down a Deposit?
Yes, we require a non-refundable $750 deposit to hold your spot with LOHOutfitters. 50% of the hunt cost will be paid when you draw. Landowner tag deposits are $5,500. Your balance is due by August 15th via bank check or cash (upon arrival to New Mexico).
Anticipating an elk hunting trip this fall? Our fall pre-season elk hunting report was published and it looks to be a banner year. To find more answers to our frequently asked questions click over to our FAQ page. We can help you register for the draw. See important draw dates at New Mexico Game and Fish.
Jerry Blake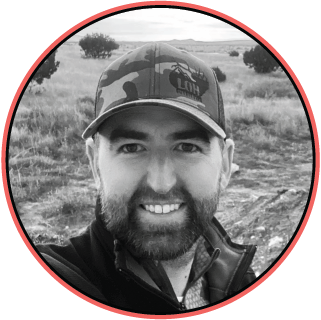 Matt Bennett